Top Rated Local® Residential & Commercial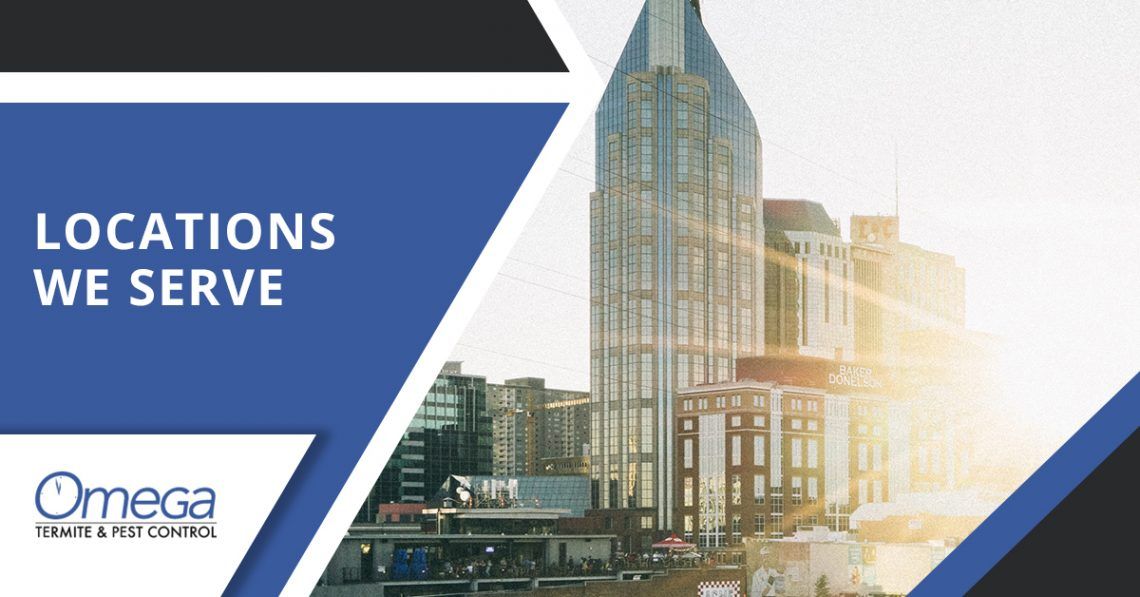 At Omega Termite and Pest Control, we pride ourselves on offering the best service in our neck of the woods. That means that if you're looking for an exterminator in Nashville, White House, Hendersonville, Goodlettsville, Gallatin, or the surrounding area, we're the pest control company that you can count on to get the job done the right way.
Whether you're dealing with termites, bed bugs, ants, fleas, cockroaches, spiders, mice, or any of the other pests we can help to get rid of, you can count on us to provide you with expert service every single time. We pride ourselves on doing thorough work and we offer a number of service plans that have been designed to fit every need, ensuring that you can get the help you're looking for for your specific situation.
OFFERING PEST CONTROL IN…
and the surrounding area.
NO MATTER THE PEST, WE CAN HELP
With a number of different service plans to suit your specific needs and an unbeatable guarantee (if any covered pest problems arise between scheduled visits, we will return and treat the problem area at no extra cost), we strive to be among the top pest control companies in our neck of the woods.
Our team of experts knows just how difficult it can be to deal with unwanted critters in your home and that's why we will go above and beyond to meet your needs. When you need to ensure that the work gets done the right way, we're the team to turn to. That doesn't mean that we charge an arm and a leg, however, because we also know the importance of providing work that is affordable, safe, convenient, effective, and friendly to the environment.
Proudly Serving the Greater Nashville Area
There is a lot to love about living in our neck of the woods and having pests get in the way is always a frustrating experience. Fortunately, with locations in both Nashville and White House, we're happy to visit other areas in the community. We mentioned Hendersonville, Goodlettsville, and Gallatin specifically but if you're nearby we'd love to lend a helping hand.
CONTACT US TODAY
If you're in one of the locations above and you're searching for one of the area's top pest control companies, you can rest assured that our goal is to make your life a little bit better by getting rid of the critters and creatures that are causing you problems.
Between service plans that are tailored to suit your specific situation and a dedication to getting the job done the right way with our unbeatable warranty, you can count on the team of experts at Omega Termite and Pest Control for quality work that won't break the bank.
We are dedicated to ensuring that your home is free of pests because at the end of the day our homes are where we go for rest and relaxation. If a critter has invaded, we can help you to take that space back. It's as simple as that!
Contact us today to get the help you need!